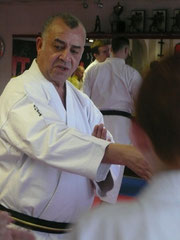 Shihan Daniels annual Autumn course & black belt gradings recently took place at our Headquarters, on 11th-13th March 2011.
This course was split into two sections, where Shihan Daniels worked on the blocking and timing with the Junior grades, and the Seniors learnt the new Kata "Gojushio".
It was nice to see many new faces at this course, which was very well attended by all dojo's, and everyone who attended thoroughly enjoyed themselves, in both training & socialising..