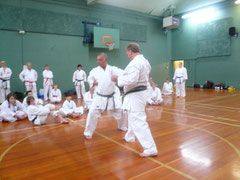 Shihan Daniels recently visited Canada to teach a course to all the Canadian students which included Chief Instructor Sensei Dave Bentley 5th Dan.
He was accompanied on the trip by Sensei Solfrid Daniels 5th Dan.
Shihan Daniels taught various things including Kata's & Bunkai applications, which was thoroughly enjoyed by all.