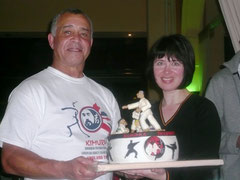 Shihan Daniels recently visited Germany to teach his annual Autumn course to over 200 students whom attended the course.
He was accompanied by SKF Assistant Chief Instructor Sensei Clem Braithwaite 7th Dan.
The trip also included a visit to the German Headquarters where Shihan Daniels had a few days to relax with senior students including German Chief Instructor Sensei Eddie Horn 6th Dan, prior to the main course.