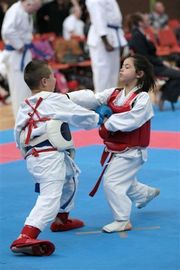 The recent SKF Nationals 2012 were held at Haden Hill Leisure Centre, where competitors from all dojos took part in one of our flagship events.
This year saw some outstanding fights, throughout cadets and seniors with also a few surprises which is also good to see.
Shihan Daniels was very pleased with the standard and etiquette shown throughout from all competitors.  Whether victory or loss their was fantastic sportsmanship and comaraderie from all, and generally a fantastic atmosphere.
| | |
| --- | --- |
| | Kata 16yrs+ Junior (8th - 5th Kyu) |
| | | | | |
| --- | --- | --- | --- | --- |
| 1 | | Mr Andrew Martin | Blackheath SKF HQ | S.K.F |
| | | | | |
| --- | --- | --- | --- | --- |
| 2 | | Miss Britany Thomas | Streetline Defence | S.K.F |
| | | | | |
| --- | --- | --- | --- | --- |
| 3 | | Mr Steve Pereira | Kent | S.K.F |
| | |
| --- | --- |
| | Kata 16yrs+ Senior (1st Dan & above) |
| | | | | |
| --- | --- | --- | --- | --- |
| 1 | | Mr Peter Jelf | Blackheath SKF HQ | S.K.F |
| | | | | |
| --- | --- | --- | --- | --- |
| 2 | | Miss Katie Simpson | Kent | S.K.F |
| | | | | |
| --- | --- | --- | --- | --- |
| 3 | | Miss Emily Powell | Tsunami | S.K.F |
| | |
| --- | --- |
| | Kata 16yrs+ Senior (4th - 1st Kyu) |
| | | | | |
| --- | --- | --- | --- | --- |
| 1 | | Miss Carrie Garner | Shaw | S.K.F |
| | | | | |
| --- | --- | --- | --- | --- |
| 2 | | Mr Michael Baker | Fortknocks | S.K.F |
| | | | | |
| --- | --- | --- | --- | --- |
| 3 | | Mr Simon Marshall | Tsunami | S.K.F |
| | |
| --- | --- |
| | Kata 35yrs+ Black Belt (Open) |
| | | | | |
| --- | --- | --- | --- | --- |
| 1 | | Mr David Maynard | Blackheath SKF HQ | S.K.F |
| | | | | |
| --- | --- | --- | --- | --- |
| 2 | | Mr Chris Simpson | Kent | S.K.F |
| | | | | |
| --- | --- | --- | --- | --- |
| 3 | | Mr David Powell | Tsunami | S.K.F |
| | |
| --- | --- |
| | Kata Cadet Junior (5th - 3rd Kyu) |
| | | | | |
| --- | --- | --- | --- | --- |
| 1 | | Miss Emma Bradley | Fortknocks | S.K.F |
| | | | | |
| --- | --- | --- | --- | --- |
| 2 | | Mr Haydn Potter | Kent | S.K.F |
| | | | | |
| --- | --- | --- | --- | --- |
| 3 | | Miss Mia Daniels | Blackheath SKF HQ | S.K.F |
| | |
| --- | --- |
| | Kata Cadet Junior (8th - 6th Kyu) |
| | | | | |
| --- | --- | --- | --- | --- |
| 1 | | Mr Kacy Campbell-Russel | Blackheath SKF HQ | S.K.F |
| | | | | |
| --- | --- | --- | --- | --- |
| 2 | | Miss Lucy Sheldon | Fortknocks | S.K.F |
| | | | | |
| --- | --- | --- | --- | --- |
| 3 | | Mr Jack Preece | Fortknocks | S.K.F |
| | |
| --- | --- |
| | Kata Cadet Senior (2nd Kyu & above) |
| | | | | |
| --- | --- | --- | --- | --- |
| 1 | | Mr Iain Sinnett | Tsunami | S.K.F |
| | | | | |
| --- | --- | --- | --- | --- |
| 2 | | Mr Jack Cutler | Kent | S.K.F |
| | | | | |
| --- | --- | --- | --- | --- |
| 3 | | Mr Brandon Taylor | Blackheath SKF HQ | S.K.F |
| | |
| --- | --- |
| | Kumite Boys 12-13yrs (Open) |
| | | | | |
| --- | --- | --- | --- | --- |
| 1 | | Mr Adam Axford | Kent | S.K.F |
| | | | | |
| --- | --- | --- | --- | --- |
| 2 | | Mr Josh Doran | Kent | S.K.F |
| | | | | |
| --- | --- | --- | --- | --- |
| 3 | | Mr Ali Abbas | Worcester | S.K.F |
| | |
| --- | --- |
| | Kumite Boys 14-16yrs (Open) |
| | | | | |
| --- | --- | --- | --- | --- |
| 1 | | Mr Jack Cutler | Kent | S.K.F |
| | | | | |
| --- | --- | --- | --- | --- |
| 2 | | Mr Iain Sinnett | Tsunami | S.K.F |
| | | | | |
| --- | --- | --- | --- | --- |
| 3 | | Mr Haydn Potter | Kent | S.K.F |
| | |
| --- | --- |
| | Kumite Boys/Girls 10-11yrs (Open) |
| | | | | |
| --- | --- | --- | --- | --- |
| 1 | | Mr Brandon Taylor | Blackheath SKF HQ | S.K.F |
| | | | | |
| --- | --- | --- | --- | --- |
| 2 | | Miss Mia Daniels | Blackheath SKF HQ | S.K.F |
| | | | | |
| --- | --- | --- | --- | --- |
| 3 | | Mr Liam Reid | Blackheath SKF HQ | S.K.F |
| | |
| --- | --- |
| | Kumite Boys/Girls 6-7yrs (Open) |
| | | | | |
| --- | --- | --- | --- | --- |
| 1 | | Mr Kacper Krzykowski | Kent | S.K.F |
| | | | | |
| --- | --- | --- | --- | --- |
| 2 | | Miss Lucy Sheldon | Fortknocks | S.K.F |
| | | | | |
| --- | --- | --- | --- | --- |
| 3 | | Mr Jack Preece | Fortknocks | S.K.F |
| | |
| --- | --- |
| | Kumite Boys/Girls 8 - 9yrs (Open) |
| | | | | |
| --- | --- | --- | --- | --- |
| 1 | | Mr Lawrence Bordean | Kent | S.K.F |
| | | | | |
| --- | --- | --- | --- | --- |
| 2 | | Mr Finley Lodge | Kent | S.K.F |
| | | | | |
| --- | --- | --- | --- | --- |
| 3 | | Miss Lauren Reid | Blackheath SKF HQ | S.K.F |
| | |
| --- | --- |
| | Kumite Female 16yrs+ (Open) |
| | | | | |
| --- | --- | --- | --- | --- |
| 1 | | Mrs Esme Gatzanis | Blackheath SKF HQ | S.K.F |
| | | | | |
| --- | --- | --- | --- | --- |
| 2 | | Miss Katie Simpson | Kent | S.K.F |
| | | | | |
| --- | --- | --- | --- | --- |
| 3 | | Miss Jenny Loftus | Blackheath SKF HQ | S.K.F |
| | |
| --- | --- |
| | Kumite Girls 12-15yrs (Open) |
| | | | | |
| --- | --- | --- | --- | --- |
| 1 | | Miss Britany Thomas | Streetline Defence | S.K.F |
| | | | | |
| --- | --- | --- | --- | --- |
| 2 | | Miss Bethanie Jardine | Shaw | S.K.F |
| | | | | |
| --- | --- | --- | --- | --- |
| 3 | | Miss Christine Bordean | Kent | S.K.F |
| | |
| --- | --- |
| | Kumite Male 35yrs+ (Open) |
| | | | | |
| --- | --- | --- | --- | --- |
| 1 | | Mr Gary Sawyers | Streetline Defence | S.K.F |
| | | | | |
| --- | --- | --- | --- | --- |
| 2 | | Mr John Hepburn | Streetline Defence | S.K.F |
| | | | | |
| --- | --- | --- | --- | --- |
| 3 | | Mr David Maynard | Blackheath SKF HQ | S.K.F |
| | | | | |
| --- | --- | --- | --- | --- |
| 1 | | Mr Audun Daniels | Blackheath SKF HQ | S.K.F |
| | | | | |
| --- | --- | --- | --- | --- |
| 2 | | Mr Peter Jelf | Blackheath SKF HQ | S.K.F |
| | | | | |
| --- | --- | --- | --- | --- |
| 3 | | Mr Andrew Martin | Blackheath SKF HQ | S.K.F |
| | |
| --- | --- |
| | Kata (Junior Team) 10 - 14yrs |
| | | | | |
| --- | --- | --- | --- | --- |
| | 2 | | Blackheath | Blackheath SKF HQ |
| | |
| --- | --- |
| | Kata (Junior Team) Under 10yrs |
| | | | | |
| --- | --- | --- | --- | --- |
| | 1 | | Blackheath | Blackheath SKF HQ |
| | | | | |
| --- | --- | --- | --- | --- |
| | 1 | | Blackheath (A) | Blackheath SKF HQ |
| | |
| --- | --- |
| | Kumite Boys Team 12-15yrs (Open) |
| | | | | |
| --- | --- | --- | --- | --- |
| | 3 | | Blackheath | Blackheath SKF HQ |
| | |
| --- | --- |
| | Kumite Male Team 16yrs+ (Open) |
| | | | | |
| --- | --- | --- | --- | --- |
| | 1 | | Blackheath (A) | Blackheath SKF HQ |
| | | | | |
| --- | --- | --- | --- | --- |
| | 2 | | Blackheath (B) | Blackheath SKF HQ |