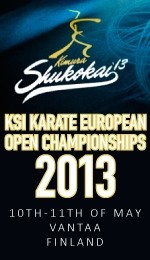 The recent KSI European Championships 2013, were held in Helsinki, Finland.
The SKF National team did us all proud and came away from the championships with 12x GOLD, 3x SILVER and 4x BRONZE.
A seriously fantastic achievement and team effort by all.  The squad topped the Medal Table.
Shihan Daniels was very proud of the team.