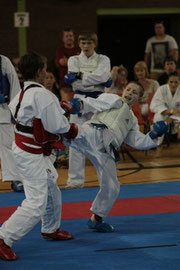 SKF KIMURA CUP 2011
The recent Kimura Cup championships were held at Haden Hill Leisure Centre.
This year was the best championships to date with so many new young and talented youngsters from all dojos.
There were alot of fantastic performances throughout all the categories this year, and the standard was so high, in which Shihan Daniels commented how pleased he was wih it.
The Kimura Cup was presented this year to Sensei Paul Richards, who although he didnt compete Shihan Daniels felt it was only right to award the Kimura Cup which he has never won,  for all his services to the SKF and major achievements over the years.
A truly fantastic day overall.
| | |
| --- | --- |
|   | Kimura Cup 2011 - Results Table |
| | |
| --- | --- |
|   | Kata 16yrs+ Junior (8th - 5th Kyu) |
| | | | | |
| --- | --- | --- | --- | --- |
| 1 |   | Mr Andrew Martin | Blackheath SKF HQ | S.K.F |
| | | | | |
| --- | --- | --- | --- | --- |
| 2 |   | Mr Josh Spence | Bournemouth | S.K.F |
| | | | | |
| --- | --- | --- | --- | --- |
| 3 |   | Mr Jon Turner | Blackheath SKF HQ | S.K.F |
| | |
| --- | --- |
|   | Kata 16yrs+ Senior (4th - 1st Kyu) |
| | | | | |
| --- | --- | --- | --- | --- |
| 1 |   | Miss Elle Osborne | Kent | S.K.F |
| | | | | |
| --- | --- | --- | --- | --- |
| 2 |   | Mr Michael Baker | Fortknocks | S.K.F |
| | | | | |
| --- | --- | --- | --- | --- |
| 3 |   | Mr Simon Marshall | Tsunami | S.K.F |
| | |
| --- | --- |
|   | Kata 35yrs+ Black Belt (Open) |
| | | | | |
| --- | --- | --- | --- | --- |
| 1 |   | Mr Chris Simpson | Kent | S.K.F |
| | | | | |
| --- | --- | --- | --- | --- |
| 2 |   | Mr Colin Gillingham | Bournemouth | S.K.F |
| | | | | |
| --- | --- | --- | --- | --- |
| 3 |   | Mr David Maynard | Blackheath SKF HQ | S.K.F |
| | |
| --- | --- |
|   | Kata Cadet Jr. Grade (5th - 3rd Kyu) |
| | | | | |
| --- | --- | --- | --- | --- |
| 1 |   | Mr Josh Plant | Blackheath SKF HQ | S.K.F |
| | | | | |
| --- | --- | --- | --- | --- |
| 2 |   | Miss Mia Daniels | Blackheath SKF HQ | S.K.F |
| | | | | |
| --- | --- | --- | --- | --- |
| 3 |   | Miss Jordan Taylor | Blackheath SKF HQ | S.K.F |
| | |
| --- | --- |
|   | Kata Cadet Junior (8th - 6th Kyu) |
| | | | | |
| --- | --- | --- | --- | --- |
| 1 |   | Miss Emma Bradley | Fortknocks | S.K.F |
| | | | | |
| --- | --- | --- | --- | --- |
| 2 |   | Miss Britany Thomas | Streetline Defence | S.K.F |
| | | | | |
| --- | --- | --- | --- | --- |
| 3 |   | Mr David Pereira | Kent | S.K.F |
| | |
| --- | --- |
|   | Kata Cadet Sr. Grade (2nd Kyu & above) |
| | | | | |
| --- | --- | --- | --- | --- |
| 1 |   | Mr Iain Sinnett | Tsunami | S.K.F |
| | | | | |
| --- | --- | --- | --- | --- |
| 2 |   | Miss Christine Bordean | Kent | S.K.F |
| | | | | |
| --- | --- | --- | --- | --- |
| 3 |   | Mr Jack Cutler | Kent | S.K.F |
| | |
| --- | --- |
|   | Kata Senior (1st Dan & above) |
| | | | | |
| --- | --- | --- | --- | --- |
| 1 |   | Mr Peter Jelf | Blackheath SKF HQ | S.K.F |
| | | | | |
| --- | --- | --- | --- | --- |
| 2 |   | Miss Katie Simpson | Kent | S.K.F |
| | | | | |
| --- | --- | --- | --- | --- |
| 3 |   | Miss Josie Farrow | Worcester | S.K.F |
| | |
| --- | --- |
|   | Kumite Boys 10-11yrs (Open) |
| | | | | |
| --- | --- | --- | --- | --- |
| 1 |   | Mr Wesley Francis | Blackheath SKF HQ | S.K.F |
| | | | | |
| --- | --- | --- | --- | --- |
| 2 |   | Mr Josh Plant | Blackheath SKF HQ | S.K.F |
| | | | | |
| --- | --- | --- | --- | --- |
| 3 |   | Mr Brandon Taylor | Blackheath SKF HQ | S.K.F |
| | |
| --- | --- |
|   | Kumite Boys 12-13yrs (Open) |
| | | | | |
| --- | --- | --- | --- | --- |
| 1 |   | Mr Iain Sinnett | Tsunami | S.K.F |
| | | | | |
| --- | --- | --- | --- | --- |
| 2 |   | Mr Thomas Manning | Kent | S.K.F |
| | | | | |
| --- | --- | --- | --- | --- |
| 3 |   | Mr Jack Cutler | Kent | S.K.F |
| | |
| --- | --- |
|   | Kumite Boys 14-16yrs (Open) |
| | | | | |
| --- | --- | --- | --- | --- |
| 1 |   | Mr James Gribble | Pershore | S.K.F |
| | | | | |
| --- | --- | --- | --- | --- |
| 2 |   | Mr Aaron Jordan | Shaw | S.K.F |
| | | | | |
| --- | --- | --- | --- | --- |
| 3 |   | Mr Chris Plant | Blackheath SKF HQ | S.K.F |
| | |
| --- | --- |
|   | Kumite Boys/Girls 6-7yrs (Open) |
| | | | | |
| --- | --- | --- | --- | --- |
| 1 |   | Mr Keiron Thomas | Streetline Defence | S.K.F |
| | | | | |
| --- | --- | --- | --- | --- |
| 2 |   | Miss Amelia Avery | Blackheath SKF HQ | S.K.F |
| | | | | |
| --- | --- | --- | --- | --- |
| 3 |   | Miss Lucy Sheldon | Fortknocks | S.K.F |
| | |
| --- | --- |
|   | Kumite Boys/Girls 8 - 9yrs (Open) |
| | | | | |
| --- | --- | --- | --- | --- |
| 1 |   | Mr Finley Lodge | Kent | S.K.F |
| | | | | |
| --- | --- | --- | --- | --- |
| 2 |   | Mr Luke Walster | Shaw | S.K.F |
| | | | | |
| --- | --- | --- | --- | --- |
| 3 |   | Mr Lawrence Bordean | Kent | S.K.F |
| | |
| --- | --- |
|   | Kumite Female 16yrs+ (Open) |
| | | | | |
| --- | --- | --- | --- | --- |
| 1 |   | Miss Josie Farrow | Worcester | S.K.F |
| | | | | |
| --- | --- | --- | --- | --- |
| 2 |   | Miss Elle Osborne | Kent | S.K.F |
| | | | | |
| --- | --- | --- | --- | --- |
| 3 |   | Miss Katie Simpson | Kent | S.K.F |
| | |
| --- | --- |
|   | Kumite Girls 10-12yrs (Open) |
| | | | | |
| --- | --- | --- | --- | --- |
| 1 |   | Miss Mia Daniels | Blackheath SKF HQ | S.K.F |
| | | | | |
| --- | --- | --- | --- | --- |
| 2 |   | Miss Christine Bordean | Kent | S.K.F |
| | | | | |
| --- | --- | --- | --- | --- |
| 3 |   | Miss Emma Bradley | Fortknocks | S.K.F |
| | |
| --- | --- |
|   | Kumite Girls 13-15yrs (Open) |
| | | | | |
| --- | --- | --- | --- | --- |
| 1 |   | Miss Bethanie Jardine | Shaw | S.K.F |
| | | | | |
| --- | --- | --- | --- | --- |
| 2 |   | Miss Britany Thomas | Streetline Defence | S.K.F |
| | | | | |
| --- | --- | --- | --- | --- |
| 3 |   | Miss Emma Avery | Blackheath SKF HQ | S.K.F |
| | |
| --- | --- |
|   | Kumite Male 35yrs+ (Open) |
| | | | | |
| --- | --- | --- | --- | --- |
| 1 |   | Mr John Hepburn | Streetline Defence | S.K.F |
| | | | | |
| --- | --- | --- | --- | --- |
| 2 |   | Mr Gary Sawyers | Streetline Defence | S.K.F |
| | | | | |
| --- | --- | --- | --- | --- |
| 3 |   | Mr David Maynard | Blackheath SKF HQ | S.K.F |
| | |
| --- | --- |
|   | Kumite Male Jr. 18yrs+ (8th - 5th Kyu Open) |
| | | | | |
| --- | --- | --- | --- | --- |
| 1 |   | Mr Richard Koos | Streetline Defence | S.K.F |
| | | | | |
| --- | --- | --- | --- | --- |
| 2 |   | Mr Andrew Hall | Shaw | S.K.F |
| | | | | |
| --- | --- | --- | --- | --- |
| 3 |   | Mr Josh Spence | Bournemouth | S.K.F |
| | |
| --- | --- |
|   | Kumite Senior Male 18yrs+(4th Kyu & above) |
| | | | | |
| --- | --- | --- | --- | --- |
| 1 |   | Mr Audun Daniels | Blackheath SKF HQ | S.K.F |
| | | | | |
| --- | --- | --- | --- | --- |
| 2 |   | Mr Peter Jelf | Blackheath SKF HQ | S.K.F |
| | | | | |
| --- | --- | --- | --- | --- |
| 3 |   | Mr Umar Jawed | Streetline Defence | S.K.F |
---
| | |
| --- | --- |
|   | Kata (Junior Team) 10 - 14yrs |
| | | | | |
| --- | --- | --- | --- | --- |
|   | 1 |   | Blackheath 'B' | Blackheath SKF HQ |
| | | | | |
| --- | --- | --- | --- | --- |
|   | 3 |   | Blackheath 'A' | Blackheath SKF HQ |
| | |
| --- | --- |
|   | Kata (Junior Team) Under 10yrs |
| | | | | |
| --- | --- | --- | --- | --- |
|   | 3 |   | Blackheath | Blackheath SKF HQ |
| | | | | |
| --- | --- | --- | --- | --- |
|   | 1 |   | Blackheath | Blackheath SKF HQ |
| | |
| --- | --- |
|   | Kumite Cadet Boys Team 12-15yrs (Open) |
| | | | | |
| --- | --- | --- | --- | --- |
|   | 1 |   | Blackheath | Blackheath SKF HQ |
| | | | | |
| --- | --- | --- | --- | --- |
|   | 3 |   | Streetline | Streetline Defence |
| | |
| --- | --- |
|   | Kumite Male Team 16yrs+ (Open) |
| | | | | |
| --- | --- | --- | --- | --- |
|   | 1 |   | Blackheath 'A' | Blackheath SKF HQ |
| | | | | |
| --- | --- | --- | --- | --- |
|   | 2 |   | Streetline 'A' | Streetline Defence |
| | | | | |
| --- | --- | --- | --- | --- |
|   | 3 |   | Streetline 'B' | Streetline Defence |